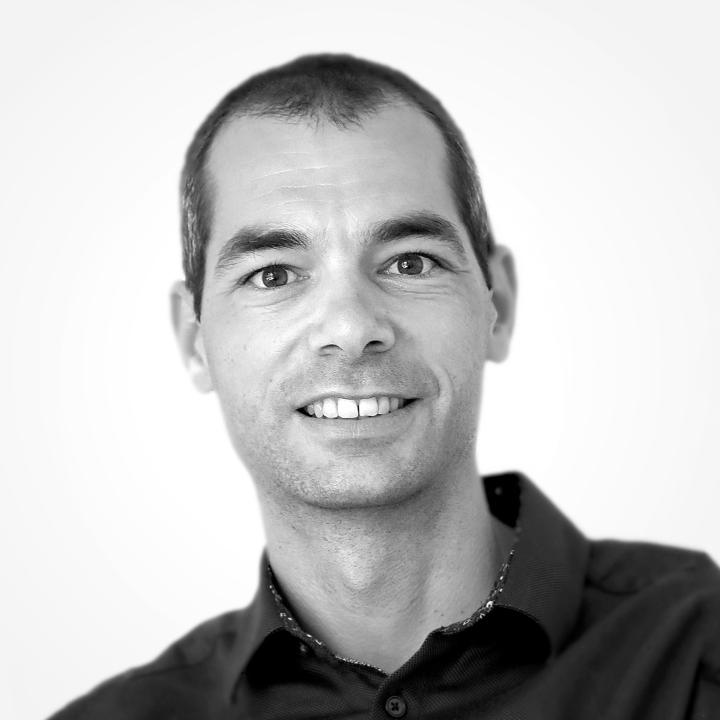 Žiga Kokalj, PhD
Head of Remote Sensing Department, Research Associate, Associate Professor
+386 1 4706 458
+386 1 4706 495
ziga.kokalj@zrc-sazu.si
Žiga is mainly involved in environmental studies using optical satellite imagery processing and airborne laser scanning data processing, internet cartography, spatial analytics and modelling of natural processes, particularly from the point of view of how various human activities affect the environment, both historically and in the present. He has a particular interest in the protection of natural and cultural heritage.
He has a degree in Geography (2004, Faculty of Arts, University of Ljubljana) and holds a PhD in remote sensing (2010, Faculty of Civil and Geodetic Engineering, University of Ljubljana). He obtained the Zois scholarship for gifted students and his graduate thesis was given the Prešeren Award. He was awarded the ZRC Gold Award for exceptional achievements in science. During his doctoral studies he had a position of a Young Researcher and was funded by the Slovenian Research Agency.
He has expanded his knowledge abroad: for a shorter period at the University of Copenhagen in Denmark (2006) and the University of Tours in France (2007), and for a longer period at the University of Birmingham in the United Kingdom, where he was on a three-month study visit (2006) and six months as an honorary research fellow (2008). He also worked for a month as a visiting scientist at the Icelandic Institute of Archaeology (Fornleifastofnun Íslands, 2010), and at Historic Environment Scotland (2017). He was an affiliated researcher for three months at the Italian Institute of Technology (2021).
In the last years he has participated in two Centres of Excellence (CO FABRICA and CO Space-Si), four projects of the European Union Framework Programmes (5th, 6th, and 7th EU FP), two projects of the European INTERREG programme and of the ERA STAR programme, six European Space Agency projects, and other international and national, basic, applied, and bilateral projects. He was a principal investigator or a project partner leader of three projects financed by Slovenian Research Agency, three projects financed by the European Space Agency, a project financed by the European Social Fund, and a project of the INTERREG programme. He was a Working Party leader of the ArchaeoLandscapes Europe project (7th FP), with 27 co-organizing members and 51 associated partners.
He is a regular active participant in scientific conferences, symposia, and workshops in the fields of spatial modelling with geographic information systems and remote sensing (40 invited lectures). He chaired sections and was a member of the scientific committee at several international conferences and symposia.
He is a member of the first French-Slovenian European associated laboratory ModeLTER - European Laboratory for Modelling of Landscapes and Territories over the Long Term (CNRS (France) - ZRC SAZU (Slovenia). He is a (co)author of 63 scientific papers and two books. He is also an editor of the Space, place, time monograph series, published by Založba ZRC, a reviewer of many scientific journals (e.g. Archaeological Prospection, Computers and Geosciences, Journal of Archaeological Science, Journal of Archaeological Science – reports, Remote Sensing), and an evaluator of at the Humanities in the European Research Area (HERA) programme.
He is a member of the Aerial Archaeology Research Group (AARG), the International Union of the Prehistoric and Protohistoric Sciences (UISPP), and the European Geosciences Union (EGU).
He shares his knowledge with younger generations through periodical collaboration with the University of Ljubljana, the University of Primorska, the University of Nova Gorica, and the University of Sarajevo. He also lectured at an ERASMUS Intensive Programme. He was a (co)supervisor of nine masters' thesis, and of three diploma thesis at home and abroad. Six of the high school research theses he mentored won a national golden medal at the Slovenian young researchers meeting. One was also awarded a first price at the Slovenia from Space competition, and two at the international completion of research projects organized by the MEF Educational Institutions from Istanbul, Turkey.
Student Prešeren award, 2004
ZRC SAZU gold award, 2017
KOKALJ, Žiga – Johannes MAST, 2021, Space lidar for archaeology? Reanalyzing GEDI data for detection of ancient Maya buildings. Journal of Archaeological Science: Reports 36, 102811.
ŠPRAJC, Ivan – Nicholas P. DUNNING, – Jasmina ŠTAJDOHAR – HERNÁNDEZ GÓMEZ, Quintin, – CHATO LÓPEZ, Israel, – Aleš MARSETIČ – Joseph W. BALL – Sara DZUL GÓNGORA – Octavio ESPARZA OLGUÍN – Atasta FLORES ESQUIVEL – Žiga KOKALJ, 2021, Ancient Maya water management, agriculture, and society in the area of Chactún, Campeche, Mexico. Journal of anthropological archaeology. 61, 101261, 1-21.
STANČIČ, Liza – Krištof OŠTIR – Žiga KOKALJ, 2020, Fluvial gravel bar mapping with spectral signal mixture analysis. European journal of remote sensing, 16.
NUNINGER, Laure – Rachel OPITZ – Philip VERHAGEN – LIBOUREL, Thérèse, – Clement LAPLAIGE – Samuel LETURCQ – Nathanael LE VOGUER – Catherine FRUCHART – Žiga KOKALJ – Xavier RODIER, 2020, Developing FAIR ontological pathways : linking evidence of movement in lidar to models of human behaviour. Journal of computer applications in archaeology, 3(1), 63-75.
SOMRAK, Maja – Sašo Džeroski – Žiga KOKALJ, 2020, Learning to classify structures in ALS-derived visualizations of ancient Maya settlements with CNN. Remote Sensing 12(14), 2215.
KOKALJ, Žiga – Maja SOMRAK, 2019, Why Not a Single Image? Combining Visualizations to Facilitate Fieldwork and On-Screen Mapping. Remote Sensing 11(7): 747.
KOKALJ, Žiga – Ralf HESSE, 2017, Airborne laser scanning raster data visualization: A Guide to Good Practice. Prostor, kraj, čas 14. Ljubljana: Založba ZRC.
PIPAN, Primož – Žiga KOKALJ, 2017, Transformation of the Jeruzalem hills cultural landscape with modern vineyard terraces. Acta geographica Slovenica 57, 2: 149-162.
POPIT, Tomislav – Boštjan ROŽIČ – Andrej ŠMUC – Žiga KOKALJ – Timotej VERBOVŠEK – Adrijan KOŠIR, 2014, A LIDAR, GIS and basic spatial statistic application for the study of ravine and palaeo-ravine evolution in the upper Vipava valley, SW Slovenia. Geomorphology 204: 638-645.
ŠTULAR, Benjamin – Žiga KOKALJ – Krištof OŠTIR, Laure NUNINGER, 2012, Visualization of lidar-derived relief models for detection of archaeological features. Journal of archaeological science 39, 11: 3354-3360 .
KOKALJ, Žiga – Klemen ZAKŠEK – Krištof OŠTIR, 2011, Application of sky-view factor for the visualization of historic landscape features in lidar-derived relief models. Antiquity 85, 327: 263-273.
CHALLIS, Keith – Žiga KOKALJ – Mark KINCEY – Derek MOSCROP – Andy J. HOWARD, 2008, Airborne lidar and historic environment records. Antiquity 82, 318: 1055-1064.
BSc of Geography, Faculty of Arts, University of Ljubljana, 2004
PhD, Environmental Protection, University of Ljubljana, 2010
Keywords
environment protection
GIS
image processing
remote sensing
lidar data processing