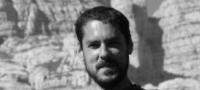 Research interests
Studied at Faculty of arts University of Ljubljana. Holds a master's degree in geography, thesis addresses the field of automated detection of geomorphological features from digital elevation model and optical images of Earth's surface. Received an excellent master's thesis award by Department of Geography FA,UL and Gdi GISDATA award. Employed on Department of Remote Sensing and cooperates at the projects dealing with automation of land-use and land-cover change detection procedures. Secondary field of interests are geomorphological processes and characteristics of karst surface, cartography and social processes modelling applied mainly on pre historic communities.
Selected publications
GRLJ, Aleš - GRIGILLO, Dejan, 2014, Use of digital elevation model and RapidEye satellite image to locate karst depressions and unroofed caves of Podgorskikras. Dela–Department of Geography, Faculty of Arts in Ljubljana 42, article - component part.
STEPIŠNIK, Uroš -GRLJ, Aleš - RADOŠ, Denis - ŽEBRE, Manja, 2016, Geomorphology of Blidinje, Dinaric Alps (Bosnia and Herzegovina). Journal of Maps, 12 supplement 1, article - component part.
GRLJ, Aleš - GLAVAŠ, Vedrana, 2015, From Hill-fort to the mountain pass and back : a comparison of three pathfinding methods. International Interdisciplinary Conference Movements, Narratives & Landscapes, University of Zadar, Croatia, 5th-7th June 2015, conference contribution.
All publications (COBISS) >>
Curriculum Vitae
Master of Geography, Faculty of Arts, University of Ljubljana, 2014
Keywords
geomorphology • karst geomorphology
Recognitions & awards
Award by Department of Geography FA, UL and Gdi GISDATA