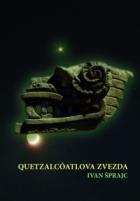 Title:
Author:
Other authors:
Year:
Keywords:
Language(s):
Description
Za Soncem in Luno je najsvetlejše nebesno telo Venera, zato je ta planet imel tudi v Mezoameriki pomembno mesto v kozmologiji in religiji. Venero je personificiral Quetzalcóatl, eno najpomembnejših in najkompleksnejših mezoameriških božanstev: bil je stvarnik, bog življenja in rodovitnosti. Nekatere različice mita, v katerem Quetzalcóatl nastopa kot svečenik in tolteški vladar, pripovedujejo, da se je po odhodu proti vzhodu spremenil v zvezdo Danico, torej v Venero. Če so tako vzvišenega boga enačili z Venero, je ta planet moral imeti izjemno pomembno vlogo. Božanska zvezda se tako pojavlja kot protagonist številnih mitov in verovanj; bila je predmet predanega čaščenja, obenem pa tudi potrpežljivega opazovanja in preučevanja. Avtor podrobno spregovori o tem, zakaj je bilo to nebesno telo tako edinstveno, kakšen pomen je imelo v kulturi in kako je vplivalo na življenje tedanjih ljudstev. Delo je v španskem izvirniku izšlo leta 1996 v Mehiki.
Table of content
Predgovor k slovenski izdaji
UVOD
1 POTOVANJA KLATEŠKE ZVEZDE
2 SVETE KNJIGE
Števci dni
Venerine efemeride v Dresdenskem rokopisu
Venera in Luna
Znanost in vraževerje
3 DEŽ IN KORUZA
Quetzalcóatl in Itzamna
Peklenski bogovi
Gospodarji koruze
4 VOJNA IN ŽRTVOVANJE
Magija igre z žogo
Bog z zavezanimi očmi
Kamni, ki govorijo
Krvavi obredi
5 IDEJE IN IZVORI
Zgradbe, ki gledajo proti Veneri
Kaj pripovedujejo domačini?
BARVNE PRILOGE
SKLEPNA RAZMIŠLJANJA
BIBLIOGRAFIJA
Publishing House
Založba ZRC
ISBN
961-6568-38-8
Specifications
paperback • 17 × 24 cm • 208 pages • 23 colour inserts