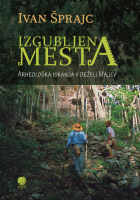 Title:
Author:
Other authors:
Year:
Keywords:
Language(s):
Description
Arheolog dr. Ivan Šprajc v knjigi predstavlja svoje raziskovanje na območju Majev v jugovzhodni Mehiki. Njegove ekspedicije so odkrile številna dotlej neznana arheološka najdišča, med drugim ostanke velikih urbanih središč z monumentalno arhitekturo, skulpturami, reliefi in napisi. Iskanje teh najdišč na skoraj neposeljenih območjih sredi bujnega tropskega rastlinja je bilo izjemna pustolovščina, saj se v pripovedi kar vrstijo najrazličnejše težave, nevarnosti, nepredvidljivi zapleti in presenetljive dogodivščine, seveda tudi trenutki veselja in zmagoslavja. Ob knjigi, ki je sicer resnična zgodba uglednega strokovnjaka, se bodo starejši bralci nemara spomnili razburljivih zgodb Karla Maya.
The second edition of the book by archaeologist Ivan Šprajc, a considerably enlarged version of the first edition published in 2009, is a first-person narrative of his explorations in the Maya area. Written by a distinguished expert and published in German in 2015, with an English translation currently in press in the USA, it is an adventurous story presenting in a reader-friendly way the incidents, difficulties, dangers, and triumphs experienced by an archaeologist in the tropical forest of southeastern Mexico. The thematically rounded episodes following the chronological order of Sprajc's expeditions include interesting information about the life of the ancient Maya, about their settlements, economy, social order, religious life, politics, and the emergence, development, and collapse of their civilization, as well as about the lives of their modern descendants, the technological advances of archaeology, and Mexico's concern for cultural heritage. The book is equipped with an overview map and a wealth of photographic material.
Publication of this book was made possible by generous gifts from Slovenian supporters of Šprajc's expeditions: Abanka, Ars longa, Adria kombi, and National Geographic Slovenia (Rokus Klett Publishing House).
Table of content
Maji in njihova dežela
Preučevanje Majev
Seja
Becán
Justo Sierra Méndez
Skrunilci grobov
Ugledno spremstvo
Los Alacranes
Pokopano mesto
Kače niso samo v džungli
Prihaja kralj
Država in federacija
El Comandante
Zmanjkalo je šavja …
Čarovnikova piramida
V podzemlju
Balakbal in Altamira
Oltar kraljev
Pozabljen
Kje je Pared de los Reyes?
Zmota
Oxpemul
Mesto stel in oltarjev
Razno
Drevo na hiši
Dolga pot
Od Paixbána do Uxula
Štiri stele
Veliko truda in malo nagrade
Kam nas vodi Ruppertov dnevnik?
Stena kraljev
Daleč od poti
Brezplodno iskanje
Terra incognita
Río Bec Dreams
Rdeči kamen
Globoki vodnjak
V žrelu pošast
Zgodba o Laguniti
Nova pridobitev
Znani in neznani Maji
Potop
Rešeni
Aleš Marsetič: O delu in bivanju v tropskem gozdu, kartiranju izgubljenih majevskih mest in Ivanu
Publishing House
Založba ZRC
ISBN
978-961-05-0179-4
Specifications
hardback • 16,8 x 24 cm • 342 pages • illustrated
Price
26,00 EUR (Regular)
21,00 EUR (Club)